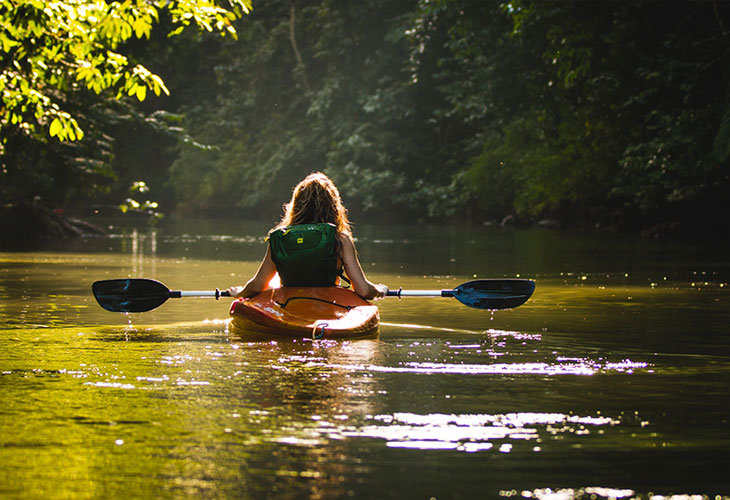 Although the reasons that lead us to do the Camino de Santiago may be more religious and spiritual, this should not be at odds with living it as a different experience.
That is why today we want to bring you a different way of pilgrimage: doing the Camino de Santiago by kayak.
If you dare to live this adventure, we guarantee that it will be very different from any traditional pilgrimage, since it will also allow you to enjoy the best of the Galician coast and gastronomy during the tour.
The Traslatio Route
There are different routes on the Camino de Santiago that you can do by kayak, but the Traslatio is the most popular of them all. It is also known as the Maritime Route, because as the legend says, this section was the one made by the Apostle's disciples to transport his remains from Jerusalem to Galicia in a stone boat.
The advantage of doing this route is that we can combine it with other experiences in the area, thanks to the Galician natural environment that lends itself to all kinds of sports activities and excursions. Thus, during the tour you can visit natural parks, islands and beaches with transparent waters, while tasting the best Galician cuisine in the area.
If you want to get the most out of your kayaking pilgrimage, you can count on the help of a specialized agency that will be in charge of organizing your entire tour, as well as scheduling complementary activities. In this way, you will always have the support of professionals who will be by your side at all times, without it being necessary for you to have kayaking experience (although it is essential to know how to swim).
The last section of the route must be done on foot, because as you already know, Santiago de Compostela has no sea. That is why after Padrón you will join the pilgrims of the Portuguese Way to continue to the Galician capital where the Cathedral awaits you in the Plaza del Obradoiro.
Stages of the Camino de Santiago by kayak
In 6 days you can complete this route enjoying it to the fullest, while you head to Compostela like any other pilgrim.
This is our proposal of stages in which to divide the Camino de Santiago by kayak, something that you can leave in the hands of a specialized agency:
Day 1: Arrival in O Grove
Our recommendation to start this experience in the best possible way is that you enjoy your first day of arrival in O Grove without haste. In this fishing village you have a lot to see and experience. Historical heritage, natural landscapes and the best Galician gastronomy await you with open arms.
Day 2: O Grove – Illa de Arousa
From Area Grande beach you can kayak the entire coast of O Grove for about 17 km. Do not forget to put the first stamp on your credential here to record the starting point of your tour.
The end of this stage is on the island of Arousa, where you can enjoy a unique environment of great beauty, surrounded by nature. Do not forget to taste the best seafood for dinner, since you are in one of the best places to do this.
Day 3: Illa de Arousa – Pobra do Caramiñal
After having breakfast on the island of Arousa you can continue your journey through the estuary, until you approach the island of Areoso, a protected natural area completely surrounded by white sands.
You can eat in Area Secada to later visit the Arousa lighthouse and continue to Punta de Cabío to finish arriving by kayak at Pobra do Caramiñal.
Day 4: Pobra do Caramiñal – Rianxo
On this day, discover Carragueiros beach located in the fishing village of Cabo de Cruz, in Boiro, and don't forget to stamp your credential. Here you can eat to continue enjoying the best Galician cuisine while tasting one of the area's wines.
Then continue along the Arousa island until you reach Rianxo, where you can spend the night until the next stage: the last you will do in kayak.
Day 5: Rianxo – Padrón
While you continue your journey through the waters of the Ulla River, you can visit the island of Cortegada, besides making a stop in Carril, a town famous for its clams (don't leave without tasting them) and where you can stamp your credential. Your tour continues by kayak to Catoira, where the mouth of the Ulla is located in the Arousa estuary.
The Camino continues to Padrón, where you can show your credential to collect the Traslatio that you deserve for having made this route by sea. Here you will also spend your last night before arriving in Santiago, this time by land.
Day 6: Padrón – Santiago de Compostela
This last stage will be done on foot, joining the rest of the pilgrims who arrive in Santiago de Compostela from the variant of the Portuguese Way.
It is a stage of low difficulty, so if you have given everything in the previous days and you are tired, it will not be too much effort for you to complete the little more than 20 km that await you. In addition, everything will be compensated upon your arrival in Santiago as soon as you begin to glimpse the cathedral.
How to do the Camino de Santiago by kayak
If you also want to do the Camino de Santiago in this original way, you will have mainly two options: do it on your own, or turn to experts who can provide you with the material during your journey, accompany you at all times for what you may need, and recommend the most important points of interest throughout your experience.
In the first case, if you want to do it on your own, it is important that you have previous kayaking experience to be able to travel long distances. You must also have all the material you will need to complete this route, both by sea and by land. And of course, you must organize everything in advance to know what stages you are going to do and in what times, to be able to achieve your Traslatio having completed the minimum mandatory distance.
If, on the other hand, you prefer to leave it in the hands of an agency, remember that we are experts on the Camino de Santiago, in all its variants, and that we can take care of everything for you, so that you only have to worry about enjoying this unique adventure.
Contact us so we can give you information about everything you need to know!