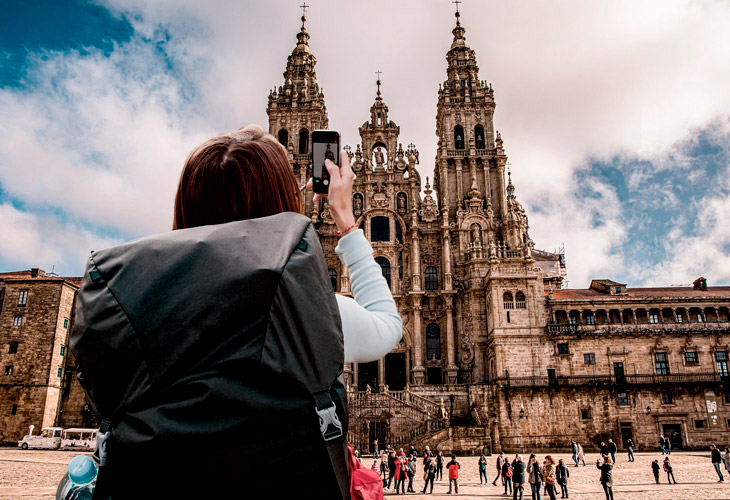 Few are the pilgrims who, even wanting to disconnect as much as possible during their experience on the Camino de Santiago, leave their mobile phone at home. Not only to have some peace of mind in case of emergency, but also to be able to use certain mobile applications that will make this experience much easier.
That is why we have selected our favorite apps so that you can get the most out of them during your Camino de Santiago. The best of all is that they are free and that some of them will even be very useful you for other moments in your life.
Take a look at our selection and let our experts on the Camino de Santiago give you some advice.
Pilgrim: the most complete app for any pilgrim
Pilgrim is a mobile app designed exclusively for pilgrims on the Camino de Santiago. In it you will find all kinds of information about the stages of each route: the difficulty, the distance, the itinerary, the main points of interest… Everything you need to do the Camino your way.

Thanks to its geolocator you will be able to see which are the closest accommodations to your current position, the best restaurants or those outstanding monuments that you should not miss, to enjoy your Camino at every step.
In addition, this Pilgrim app has many other very interesting features. Among them, the possibility of creating alerts if you find any type of incident on the Camino, so that other pilgrims can be aware of it. It also allows you to record a history of your activity, obtaining your own statistics during your route.
And if you have started this experience alone but now you want to have some company, you can contact other nearby pilgrims (within a radius of up to 50 km) and chat with them from your app. You decide, since you can always show your profile publicly or maintain your privacy at all times.
Jacostamp: now your Credential is digital
Finally a Pilgrim's Credential in digital format. With the app
JacoStamp you can collect all the stamps of the Camino during your pilgrimage, without space limit.
It is as easy as uploading your profile photo, your name, and indicating the Camino de Santiago that you will walk, as well as the starting point. The app is so precise that it even allows you to choose between the variants of this path chosen, so you won't miss any stamp.
You will be able to see an index of locations in alphabetical order as well as the number of stamps that you can find in each of them. And not only that: if you click on each of them you will be able to read a brief description of the origin of the place or establishment where the stamp is located.
By marking each stamp as achieved, it will go to your profile, so that they are always at hand as if it were your credential on paper. In addition, the place and date where you have obtained each of them will be automatically registered. And you can share them with a single click on your social media so that your followers can see your progress on the Camino de Santiago.
Relive: record your routes easily
With Relive you can keep a good memory of each stage of the Camino de Santiago. This app offers you a very complete free version, although you can also subscribe to its premium version, to which you can also have free access for 30 days.
You can record your activity or set some personal goals, as well as follow other users to keep up with their workouts and motivate them every day with comments. Relive locates you in real time, allowing you to choose the type of activity you are going to do: cycling, hiking, mountain running, horseback riding, kayaking … More than 43 different ways to classify your exercise. You can record the distance, time, speed, and even add photos of your route on the Camino de Santiago.
Once the activity is finished, in the Objectives section you will be able to see your achievements. And in the Statistics section, the distance, time, or variety of activities carried out in total, per year or per month, will be displayed. This is what makes it an ideal app even when you are not doing the Camino de Santiago.
And if you are an iPhone user, you can also link it with Apple Health for a better experience.
Life360: some peace of mind along the Camino
Specially designed for those who start to do the Camino de Santiago alone, choose not so popular routes such as the Primitive Way or difficult ones like the Via de la Plata, this app, available in 13 different languages, can be very useful mainly for your closest friends and family.
Life360 allows you to know the location of your beloved ones with total privacy. You will have to establish a family circle to which only those people you want will enter by prior invitation. In this way, you will be able to know in real time where the people in your circle are, as well as establish safe places and receive a notification when these people leave or arrive at them. And the same in your case while doing the Camino de Santiago, of course.
In addition, a very important function of this app is the activation of a silent alert to the members of your circle, who will also receive your exact location immediately in case you need it. This way you can live this experience with all the peace of mind you need.
Finally, it also has another function that allows you to record your routes as well as the stops made in each of them. So that you keep a good memory of your pilgrimage along the Camino de Santiago.
As you can see, your smartphone can be your great ally if you do the Camino de Santiago, both alone and in company. With these mobile applications you can find the tools you need so that you do not lack anything at each stage.
And remember that we can also walk with you. We are experts on the Camino de Santiago and we can help you prepare it so that this is one of the most unforgettable experiences of your life.
Contact us so we can help you!