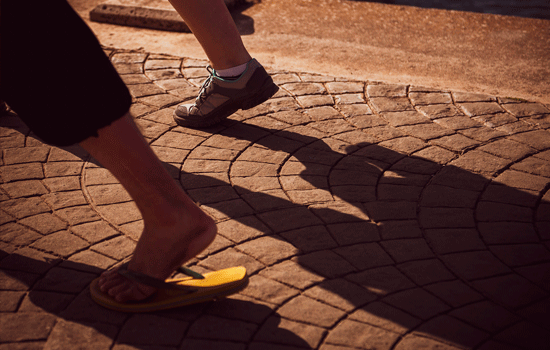 You may find yourself not in shape, may not have much time or you may simply be just a bit lazy, but if you still want to live the experience of the Camino de Santiago, you can still do it without many complications.
We are giving you some tips so that you know what factors you should take into account if you want to do the Camino de Santiago comfortably. Let us recommend you also a couple of routes suitable for all ages and physical conditions, so that you can get your Compostela without many difficulties.
Let's do this!
How do we make the Camino de Santiago easier?
Our physical condition
Obviously, this is a very important factor, since your physical condition will influence your performance during the Camino de Santiago.
If you are already used to walk several kilometers a day (that is why we always recommend training the weeks before your pilgrimage), the experience will be much more bearable than if, on the contrary, you lead an inactive lifestyle.
The time we are going to dedicate to this experience
To get to Compostela, it is necessary to do a minimum of 100 km on foot or 200 km by bicycle. And to travel this distance it is usually enough to spend 5 days on the Camino de Santiago. However, you can always adjust the stages to walk at your own pace and do fewer kilometers each day.
If you want to do the minimum mandatory distance of the Camino de Santiago, avoiding the accumulated fatigue of many days but taking the Compostela as a reward, you can choose as a starting point one of the options that we propose below. This is an ideal alternative for those pilgrims who do not have much time and who still want to enjoy the experience of the Camino.
The distance and services between stages
When choosing one route or another, it is also important that you consider the services you will have at your disposal between stage and stage. Finding a bar, a restaurant or a grocery store every few kilometers will give you some peace of mind. This way you can make frequent stops to recharge your batteries or get supplies.
Otherwise, if you commit to a route with long-distance stages and few services between them, you may find yourself with serious difficulties to finish the Camino. That is why we recommend that you also value this aspect and choose those most popular and busy routes if you want to have all the comforts at your fingertips during your pilgrimage.
The time of year
This aspect is important not only for the weather, but also because you must take into account the influx of pilgrims on certain routes. It is important to choose the most suitable time of year to do the Camino de Santiago without many difficulties.
In general, our recommendation is that you choose spring or autumn: during these months, the temperatures will be milder and the influx of pilgrims less pronounced. Some very popular paths, such as the French or the Portuguese, can be really crowded during the summer months, so even if the weather is ideal for these routes, finding accommodation at each stage or enjoying a quieter and more solitary experience can be more complicated.
The orography of the Camino
The presence of many hard and steep slopes, or ascents and descents for several kilometers in some stages can be a challenge for pilgrims less used to physical activity.
Although it is impossible to avoid this type of orography in its entirety, since there will always be more or less important slopes, some Ways will be flatter and therefore easier than others. In some cases, we may even choose to avoid certain stages directly, as is the case of the first stage of the French Way of Saint Jean Pied de Port, which crosses the Pyrenees, and that most pilgrims prefer to discard to start from the next one at Roncesvalles.
The previous planning
Although many pilgrims make decisions on the fly, looking where to spend the night upon their arrival at each stage, one way to make the Camino de Santiago easier is by planning your stays in advance and hiring additional services that help you do the Camino easier.
Contacting an agency specialized in the Camino de Santiago that can manage all these aspects for you may be the solution. You will have experts at your disposal, who will help you choose the best accommodations and will allow you to hire, among other things, a backpack transport service, something in increasingly demand by pilgrims.
What are the easiest routes on the Camino de Santiago?
Taking these aspects into account, if you cannot decide on a specific route, here are our suggestions to make an easy Camino de Santiago that does not involve too many complications.
The French Way from Sarria
The preferred option for most pilgrims who dare to do the Camino for the first time, do not have much time and want to enjoy a route without many physical demands is to do the last 100 kms of the French Way from Sarria.
Whether you are going to walk alone or in company, as it is the most popular Camino de Santiago, you will always meet other pilgrims at each stage, no matter the time of year you choose to do it. You will also have numerous hostels, pensions, restaurants and other services on your way, so you can stop to rest and take supplies whenever you need.
The Portuguese Way from Tui
The second route in terms of popularity is the Portuguese Way, and the minimum starting point to get the Compostela is the municipality of Tui, on the border with Portugal. Again, it is a route without complications, with short stages and with all the services at your fingertips.
However, the Portuguese Way along the Coast is gaining followers every year, so you also have as an alternative to start from Vigo and join the traditional Portuguese Way in the next stage, with your arrival in Redondela.
The fact is that the Camino de Santiago is a versatile experience with options for all ages and difficulties, so whether you are looking for a challenge or want to turn it into a long walk, there will be a route for you.
Check our blog and find out everything on our website. You will never walk alone thanks to A Santiago Voy!