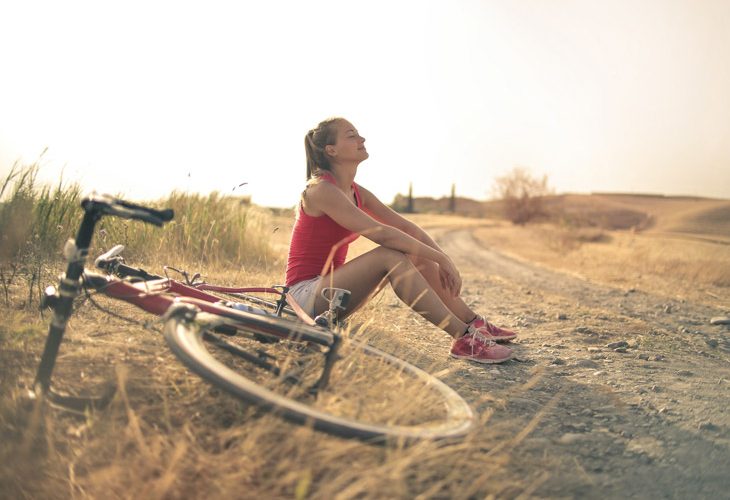 If you have considered doing the Camino de Santiago alone, we are sure some doubts have arisen… Is it dangerous? Is there a chance that I get lost? Will I get bored a lot? Will I be able to finish it by myself?
Our piece of advice is that you do not let these concerns block you, because you may be missing one of the most memorable experiences of your life. And we assure you that we speak from our own experience.
That is why today we want to give you several reasons to do the Camino of Santiago alone and enjoy your trip to the fullest.
Walking the Camino of Santiago alone: why?
Although the Camino of Santiago can be a very entertaining experience to do with family or a group of friends, many pilgrims decide to undertake this trip with their backpack as their only company.
The reasons? There can be many: maybe no one of their friends or family is available to do it with them, maybe because they take it as a personal challenge, or maybe simply because they want to put their thoughts in order as they walk. There are as many reasons as there are variants of the Camino of Santiago.
Whichever reason brings you to the Camino alone, walking unaccompanied has many advantages, as we will explain below. So if you still have doubts, read on to convince yourself.
Advantages of doing the Camino alone
You walk at your own pace and your way
The main advantage of doing the Camino without company is that the decisions you make will only depend on yourself. You set the pace, you choose where to sleep, you determine every aspect of the journey.
You will not have to wait for anyone or make decisions together, so you will definitely live a personally tailored experience.
You will discover your limits
Going on this adventure alone can seem like a personal challenge that many people do not want to face. But the benefits of doing it are many.
By leaving the comfort zone of always traveling in company, you will know your limits, you will know how far you are capable of going, and you will see your effort rewarded at the end of the Camino. Success will depend only on you and your ability to achieve it, and this is something that will give you a great satisfaction that you will want to repeat soon.
You will meet new and different people
If you do the Camino of Santiago with a closed group of family and friends, it is more likely that you limit yourself to socializing within that group. However, doing this pilgrimage without company will make you more receptive to interactions with the rest of the pilgrims, while they will also see you in some more accessible way.
Solidarity and empathy between walkers are characteristic feelings of this experience, guaranteed! And if you travel unaccompanied, you will benefit from it, since whenever you need anything, any pilgrim will offer their help. You may start out alone, but you will always end up meeting someone new from anywhere in the world.
Possible drawbacks of doing the Camino alone
Is it easier to get lost?
Although going alone may increase the chances of getting lost during some stage of the Camino of Santiago, the truth is that it is something quite unusual.
Any of the Caminos, but especially those with the most traffic, are very well signposted. At each possible junction or crossroad you will find a yellow arrow that indicates where you should continue, regardless of whether you are on an asphalt road or on a dirt road through the mountains.
Is it more boring?
Again, it will depend on the Camino of Santiago you choose and your way of being and what you are looking for during your journey.
Although it is often appreciated being able to walk at your own pace and making the stops you need when you need them, it is true that once you have reached your daily destination you can miss a little trusted company to share experiences and feelings.
Luckily, the Way of Saint James offers you the possibility of making new friends, and we assure you that, unless you do not want that to happen, you will always have the opportunity to start a conversation with other pilgrims in the same situation. Keep in mind that you will be doing the same stages every day, so in the end you will always end up finding the same people on the same places.
Which Way of Saint James is better to do alone?
Depending on the Camino de Santiago you choose, you will find a very different environment. That is why it is convenient to be clear about which one you are going to choose, especially if you are looking to do it alone.
You should first consider the time of year you want to do it, as the experience can be very different depending on the season. For example, if you are going to do it in summer, we recommend you avoid the French Way, since it will be very crowded, although it is an option in which you will always have company. If this is the way you want to do, maybe you should try to advance it or delay it a few months. May or early June, or well into September, are good months for this one.
Of course, you will also have to take into account your physical form and the challenge you want to face. In this way, if you are used to doing sports and you are not afraid of completing tough stages with hardly any services between one and the other, the Camino Primitivo can be a highly recommended option.
In summary, if what you want is to continue in solitude until you reach the final goal, choose the low season or those roads less traveled, to hardly meet pilgrims during your journey. And if your intention is to make friends at each stage, better let yourself be carried away by those most popular paths among walkers to always have someone with whom to share the best moments every day.
Recommendations to do the Camino alone
Be prepared in advance
As we said, when you walk alone you will only go at your own pace, stopping as many times as you want. But that does not mean that you should not prepare physically before starting your path.
Do not forget to train the days before the Camino of Santiago, walking several kilometers with the footwear that you are going to use during your experience and on all types of terrain. This way you will know what your physical condition is and what needs you are going to have throughout each stage until you reach Santiago de Compostela.
Don't walk at night
Although the Way of Saint James does not involve dangers, our recommendation is to walk each stage always in daylight. Especially if you are going to do it alone, since this way it will be more difficult to get lost or even injured.
By leaving early at dawn and walking at a moderate pace, even making the necessary stops, you should be able to reach your destination after noon. So you will have enough time to eat and rest for the next day, without having to walk when it starts to get dark.
Always stay connected
Our advice is that you always leave each stage with your mobile battery full, or even that you carry a second spare battery (or a portable charger) for the way.
This way, you will always be available to be contacted and you will be able to check the GPS or any map on your mobile in case you need it. In addition, you can contact the European emergency telephone number (112) to report any incidence that may arise, whether it affects you or another pilgrim in the same situation.
Let us walk with you
Another option that many people who walk the Camino alone chooses to is to leave the entire trip in the hands of an agency with experience on the Camino of Santiago.
In this way, you will not only take your trip perfectly organized, ensuring a bed in each hostel or pension at the end of each stage, but you can also be sure that someone will always be available for what you need and to help you solve any unforeseen event that may arise.