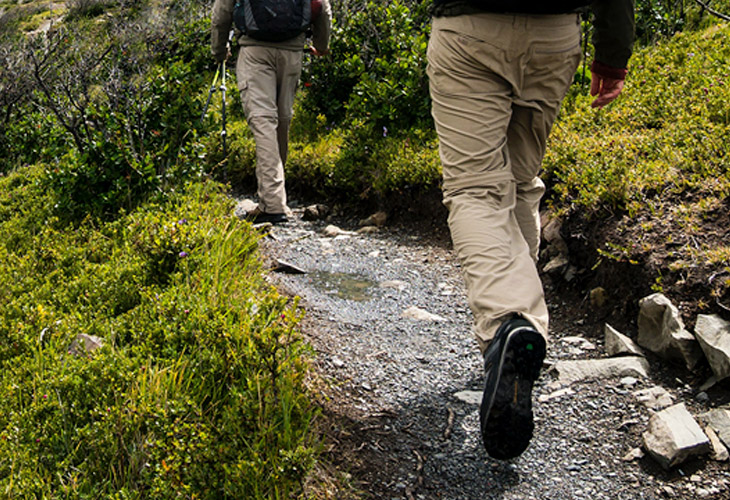 Although most pilgrims choose to do the Camino de Santiago in a simple way, without many difficulties, many others prefer to live this as a daring experience, facing a complicated terrain, adverse weather conditions and all kinds of challenges.
Whatever your case, here is a list of especially complicated stages, so that you can prepare yourself properly before facing them or avoid them if you are not ready.
Why some stages of the Camino de Santiago are harder than others?
Although what usually marks the greatest difficulty of the stages of the Camino de Santiago are usually the ascents and descents we may find on each journey, we must take into account other elements that can define the hardness of a stage.
The orography
The main characteristic of a stage considered called rompepiernas (leg breaker) is its orography. Steeps or very continuous slopes can be a problem if you are not in good physical shape, as they will exhaust you and break your stride.
In addition, the terrain conditions can also add some extra difficulty, since loose or very cobbled surfaces can lead to slips and injuries, especially if they occur on steep ascents and descents.
The climatology
The weather is always a factor to take into account when doing the Camino de Santiago, since both the snow present in the mountain areas and the high summer temperatures can greatly complicate your journey.
Even rain can become a problem. When it takes place for several days or in a very intense way, besides being tedious and making the Camino much more uncomfortable, it can muddy certain terrains and dirt roads, causing slips for example.
The distance
Long distances between stages, even when the terrain is flat or does not have too many slopes, can also be very complicated for those pilgrims not used to walk for many kilometers.
For example, certain stages of the Vía de la Plata involve walking journeys of more than 35 kilometers, and although most of them are flat, they can be really exhausting. If you are not trained to walk long distances, you can usually divide these stages in two, as long as you have shelters where you can spend the night.
Shortage of services
The lack of services between stages may not be a problem if we carry the necessary supplies to get through the day. However, if we are not prepared or any unforeseen event arises, we can find ourselves in trouble as we will not find someone to help us.
On those paths with the most influx of pilgrims, such as the Portuguese or the French ones, we will find all kinds of services located at short distance between them. But this does not happen on other routes, such as the Primitive Way or the Vía de la Plata, where we will have to face truly lonely stages.
What are the toughest stages of the Camino de Santiago?
If we have to highlight some particularly tough stages on the different Caminos de Santiago, the ones we mention below would be some of the most popular among those pilgrims looking for a challenge.
The French Way
Saint-Jean-Pied-de-Port TO Roncesvalles
Probably the best known of all the leg-breaking stages of the Camino de Santiago is this one on the French Way. In fact, many pilgrims avoid it directly, starting their pilgrimage from Roncesvalles.
For those who are in good physical condition and looking for a challenge, this stage is ideal. Along almost 25 kilometers of route and after overcoming more than 1,250 meters of unevenness through the Pyrenees, you will reach Spanish territory, enjoying incredible views and feeling like Napoleon Bonaparte himself.
However, if you change your mind or the weather conditions are very adverse, you will always have the detour through Valcarlos to reach Roncesvalles through paved roads.
O Cebreiro
The mountains of O Cebreiro are also another test to overcome on the French Way. In the stage that begins in Villafranca you will have to face the climb of La Faba before entering Galician lands, along a path of almost 28 kilometers.
But in the next stage, the height of O Poio also awaits you. This is, with its 1,337 meters high, the highest point of this popular variant of the Camino de Santiago. However, this stage is shorter: just 20 kilometers, which will make the day less difficult.
Palas de Rei – Arzúa
Although in this case you will not find high mountain areas, this stage is considered another tough one by most pilgrims.
In addition to a distance of almost 30 kilometers, you will find ups and downs that will make it difficult for you to keep up. That is why many pilgrims choose to divide this stage by making a previous stop in Melide (and thus, tasting a good Galician-style octopus dish).
The Primitive Way
Pola de Allande – La Mesa
The stage that goes from Pola de Allande to La Mesa is considered the queen stage of the Camino Primitivo. If you choose this variant of the Camino de Santiago, on this day you will find a fairly hard climb of about 600 meters of unevenness from the banks of the Nisón River, and along about 8 kilometers: the ascent to Puerto del Palo.
Although this ascent will start gently, making you believe that you will be able to face it without major difficulties, do not be overconfident: a little further on, the path will narrow and the slight rise will turn into a steep slope.
But it goes without saying that your effort will be rewarded with the spectacular views of the valley and the mountains of Lugo, after having overcome this challenge.
The difficulty of this section will increase in case of doing this Primitive Way during winter, since it is most likely that we will find snowfalls. In any case, remember to bring enough water and supplies, as well as sunscreen for those sections of low vegetation and without trees where you will not have shadows to protect you.
The Northern Way
Deba a Markina-Xemein
At this stage, one of the first ones on the Camino del Norte, the depth of the Basque mountains and long distances without services await you. It is undoubtedly one of the hardest stages due to its loneliness as well as the difficulties of the terrain.
You will find Mount Arno starting from Olatz, more than 500 meters high.  You will have to climb here from scratch, followed by more ups and downs that can be a real challenge for any pilgrim, not only because of the level of slope but also because of soil conditions.
How to face the toughest stages of the Camino de Santiago?
As you can see, it is difficult to avoid some stages of special difficulty, whatever variant of the Camino de Santiago you choose to walk.
Therefore, in addition to our recommendations to be prepared before embarking on the adventure, we want to remind you that it can be very convenient to have the services of an agency specialized in the Camino that can walk with you at all times for whatever you may need.
By doing thi, even if you are walking alone, without services around you or if you suffer some unforeseen event, you can always count on help to continue your experience until your goal.