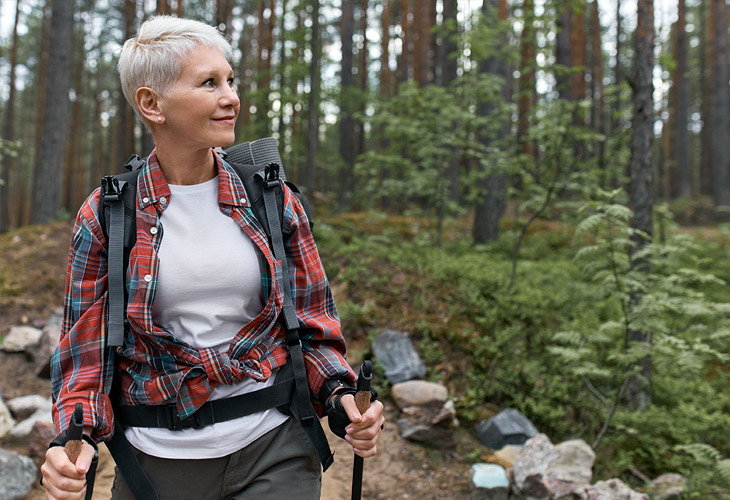 If you are 60-and-over and you have been considering doing the Camino de Santiago, nothing should stop you.
Age should not be a problem if you want to live this experience, but before starting your getaway, you must take into account certain aspects so that everything runs smooth taking into account your physical condition.
We give you all the information in this post so that you can enjoy the Camino de Santiago and make the most of it.
The Camino de Santiago, is it suitable for anyone?
The answer is yes. Every year hundreds of pilgrims of all ages walk the Camino de Santiago, from children to seniors. It is not surprising, since there are variants for all tastes and difficulties, and all of them become an experience difficult to forget.
The elderly, especially those who are already retired, are frequent pilgrims on the Camino de Santiago, since they have enough time to enjoy this experience outdoors, being able to choose the best time of year to make the pilgrimage, in addition to planning it well in advance.
However, and although the Camino de Santiago suits all types of pilgrims regardless of their physical condition, it can get complicated if not properly prepared. That is why you must take into account certain aspects if you plan to become a senior pilgrim and complete the Camino without serious difficulties.
Some tips for those senior pilgrims who want to do the Camino
Although the Camino de Santiago is an experience that pilgrims of all ages can live, if you are a senior it is necessary to prepare it in a special way and take extra precautions.
Here you have some tips so you can walk the Camino without incidences
Prepare yourself physically some weeks before
This piece of advice is suitable to any pilgrim of any age or physical condition, but it takes on greater importance in the case of elderly people.
If you want to be physically prepared to face each stage of the Camino, it will be essential that at least a couple of months before you start your training, if possible on a daily basis: start by taking short walks on flat terrain to do then longer distances progressively, until you can walk about 15-20 kilometers a day without too much effort.
We also recommend in this case to have a previous medical check-up to confirm that you are in good shape to do the Camino de Santiago. This is essential in case you suffer from any chronic ailment that may be an impediment to performing this type of physical effort.
It is best to talk to your GP or a doctor, so they can tell you the type of intensity to which you can expose yourself according to your health.
Choose a Camino without too many complications
There are different variants of the Camino de Santiago, each one with its characteristics and difficulty. Therefore, if what we are looking for is a simple route in which we do not lack anything, the best thing would be to choose a Camino with flat terrain that has a large number of services distributed over relatively short distances.
These are precisely some of the reasons why the French Way, specially the last 100 km from Sarria, is one of the favorite options of hundreds of pilgrims every year. In addition to being perfectly signposted (although this happens on all the Caminos of Santiago nowadays), it does not present too many difficulties. Besides, you will have bars, restaurants, supermarkets and shops every few meters so you can get what you need at every step.
For these same reasons, the Portuguese Way, either the traditional one or the Coastal version, are suitable options if you are looking for an easy to walk route.
You can also do single stages, choosing only those that do not present important ups and downs, or shorten them at your own pace: the average distance of each stage is about 20 kilometers, but you can choose to do shorter distances each day, or even leave a day of rest in between and thus avoid the accumulation of fatigue.
Choose a backpack transport service
One of the most important things when preparing the Camino de Santiago is your backpack: everything essential to finish your route without difficulties will go in it. That is why it is so important to always carry the minimum possible weight and avoid overloading, limiting yourself to a 10% of your body weight in any case.
An excess of weight in your backpack can be very harmful, especially if you are a senior pilgrim, since it can cause damage to your back and even the joints. Our recommendation is to hire a backpack transportation service that can carry your "luggage" from one stage to another while you comfortably walk your path.
In addition, you must also have a small and light backpack for your everyday. In it you should carry water to avoid dehydration, an appetizer or snack, sunscreen and band-aids, among other things that you may need on the go.
It is a good idea as well to have one or two canes to support you during your pilgrimage. In specialized stores you will find very light and comfortable sticks, designed precisely for this type of routes.
Trust the professionals of the Camino de Santiago
If you trust this experience on a professional agency, besides the backpack transport service, you will also have other options that you can hire with them.
There are some services that can be very useful during the Camino de Santiago, such as:
Assistance insurance during the experience
With an insurance like this you will have some extra medical coverage that will give you all the peace of mind you need while you live the experience of the Camino de Santiago.
a support vehicle
Having a support car that can pick you up in case you are  exhausted or if any emergency arises is always a good option.
Quality accommodation with previous reservation
To avoid rushing and finding yourself without a bed in the hostels on the Camino de Santiago, through a specialized agency you can ensure quality accommodation where you can rest at the end of each stage.
If you are looking to do a Camino de Santiago without complications and with all the services that can make the experience much more pleasant, do not hesitate to contact us so that we can help you design a Camino that suits you.